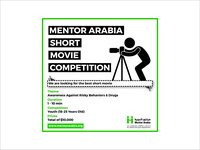 Mentor Arabia Short Movie Competition for Youth
Background
Mentor Arabia short movies competition is a regional initiative released in 2017 in order to encourage Arab youth to develop short movies discussing the importance of social and developmental work to help prevent children and youth from risky behaviors and drug addiction and raise awareness concerning the prevention issues in society
It also aims to highlight and enhance students' imagination and creativity. This lies underneath the foundation's main aims and goals that are building youth skills and enhancing their participation in social, developmental and prevention activities.
Competition's objectives:
Mentor Arabia short movies awareness competition aims to encourage and enhance youth and children talents through:
Developing short movies that aim to spread awareness and prevention activities against risky behaviors in society.
Helping them use their creativity and imagination in arts to express their opinion and point of view in issues concerning addiction and risky behaviors.
Enhancing the importance of responsibilities, social and human activities.
Developing the initiative spirit within university students and motivating them to excel in quality and performance in the field of film production.
Spreading awareness in society around the importance of human and social issues.
Participation criteria:
The participants, male or female, can be studying cinema or theatre arts and in the age range of 18-30. (It is preferred but not mandatory)
The idea of the movie has to revolve around solving a social issue related to risky behaviors or addiction.
The idea proposal should be innovative and the techniques used should be of high quality.
Duration of the movie should be between 1 and 10 minutes.
Working individually or in group.
It's not allowed for the proposed movie to have been submitted to previous regional or international competitions
The movie's genre could be: drama, documentary, promotional … etc.
NB: there are no fees or costs for participating in this competition.
Evaluation and selection criteria
The competition's committee evaluates the participating movies based on the following criteria:
The idea: it must have an awareness impact on the society and audience, enhance youth's analysis and criticism skills in addition to motivating them to participate and engage in their societies.
The creativity: the idea has to be unique and creative
The styles and techniques: has to be advanced, new and of high quality.
The general impression.
The participation and selection mechanism:
The competition's committee is composed of specialists in the fields of directing, acting, short movies, human issues, social work and awareness in general.
Mentor's foundation is working on connecting with colleges of audiovisual arts in the universities in order to include all students in the competition.
Requests of participation are to be accepted starting from the launching date of the competition through filling in the competition's application form  (attached the application form) and to be uploaded on the foundation's website www.mentorarabia.org.
Application forms are to be sent to the following email becharaghaoui@mentorarabia.org directly or via wetransfer or to be handled to mentor's office building at Aresco Center, 4th floor, Hamra, Beirut, Lebanon.
Participants should develop awareness short movies in Arabic language according to the above mentioned competition's aims.
Participants should mention " Mentor Arabia competition" in the beginning of the movie and thank the sponsors at the end of the movie.
Participants handle their short movies by uploading them on WeTransfer and sending them through the above mentioned e-mail address or to mentor's office building within the duration from 1st to 15th of August.
The competition's committees (separately) view the proposed short movies and gives marks for the best 20 movies.
Then the competition's committees (together) evaluate the 20 movies and choose the best 10 out of them, based on the above mentioned selection and evaluation criteria.
The 10 selected movies will then be displayed exclusively on Mentor Arabia and Mentor International social media networks through a promotional summary trailer composed of 15 seconds from each of the 10 movies,  for social media voting.
Then the 5 movies with highest reactions from the followers on social media and highest marks from the committee (rates 75%-25%) will win.
The five winning movies will be presented to Mentor Arabia's board of trustees for approving the winners according to the listed ranks in the award's selection criteria.
Mentor will inform the winners a month before they receive their awards.
Mentor will give the awards to the winners and announce them through a special ceremony which will take place in Cairo or Dubai or Beirut and the date will be announced later on mentor's social media networks or through local and satellite media channels.
The winning movies will then be screened in Arab and international film festivals after being evaluated from the festival's committee.
Mentor Arabia is working also on displaying the winning movies on the local and Arabic TV channels
The participating universities will organize a night to display the top 10 movies in coordination with Mentor's foundation.
The competition committee:
The competition's committee consists of 15 members from specialists and famous Arab celebrities who are active in arts, media, social and academic fields and they are also supporters and friends to Mentor Arabia foundation.
Ms. Nelly Karim – prestigious Arab actress – Egypt
Mr. Qais Al-sheikh Naguib – prestigious Arab actor – Syria
Novelist Mr. Essam Youssef – author of "

ربع جرام

" novel and active in awareness and education for preventing addiction.
 Mr. Sam Lahoud – founder chair of Beirut film society, founding director of communication strategy at louaize, script writer, director and film producer – Lebanon.
Ms. Ghaidaa Magzoub – media specialist and member of the committee for the selection of Lebanese movies participating in the Oscars at the ministry of culture – Lebanon.
Ms. Ahad Kamel – cinema Actress – Saudi Arabia
Ms. Sophie Botros – director, cinematographer and professor at the faculty of film science in AUD – Lebanon
Ms. Marianne Khoury – manager at misr international films – Egypt.
Mr. Milad Abi Raad – Television director – Lebanon.
Mr. Amin Dora – cinematic director – Lebanon.
Mr. Ahmed El Khatib – member of the royal film Jordanian commission – Jordan.
Mrs Riwa al Atrash – Media and Public Health expert – Lebanon.
Mr. Ibrahim Samaha –  Represents the Lebanese ministry of culture – Lebanon.
Mr. Chaker Khazaal – writer and a social activist and the winner of Mentor Arabia's award 2016 – Palestine.
Mrs. Thuraya Ismail – Mentor Arabia Executive Director – Saudi Arabia.
Media partners:
Local and regional radio and television stations.
Written and electronic press (newspapers and magazines).
Modern social networking platforms.
The awards:
Awards will be distributed to the top 5 submissions:
First place: an amount of 5,000 USD
Second place: an amount of 3,000 USD
Third place: an amount of 1,000 USD
Fourth place: an amount of 750 USD
Fifth place: an amount of 500 USD
Commemorative shields will also be provided for the winners and certificates of appreciation to the top ten ranks.
Production rights and Intellectual property:
Participants have to assure they have all the rights licenses for materials used in the film production and also assure that they have the approval from other participants in the movie. He shall also bear solely the responsibility for any financial, literary, intellectual or criminal claim that may be received from third parties in these right.
The movies must be original and don't accept more than one participation per person; in case there are multiple posts, only the first one is taken into consideration.
The participants shall give Mentor Arabia the authority to take the participated movie in the competition and use it in any other programs that it sees suitable and related to the foundation's aims. Also this includes mentor's right to re-publish it on channels for the purpose of raising awareness and through all means of communication and websites of the foundation with keeping the right of the idea's owner.
Participated movies must not violate any of the copyrights and distribution law, property rights or mock any of the individuals or companies. Mentor Arabia is irresponsible if any of them break these laws. Also these participations will take the full responsibility and agree upon discharging Mentor Arabia from any complains that comes from any third party due to breaking of any of the rules.
The participated movies should not include nicknames for people, school names, club names, residence addresses, phone numbers or any details about specific places or people that could lead to getting information about specific people without their permission.
Contestants must agree to participate in publicity campaigns after the competition ends.
Mentor Arabia has the right to cancel the competition at any time if it found that this is a suitable solution or under any circumstances beyond it's control and in this case an announcement will be published on Mentor Arabia website.
Mentor Arabia has the right to modify any of these conditions at any time it finds it suitable including modifying the award or replacing it. And in this case an announcement will be published on mentor's website.
استمارة المشاركة في مسابقة الأفلام التوعوية القصيرة (41.9 KB)